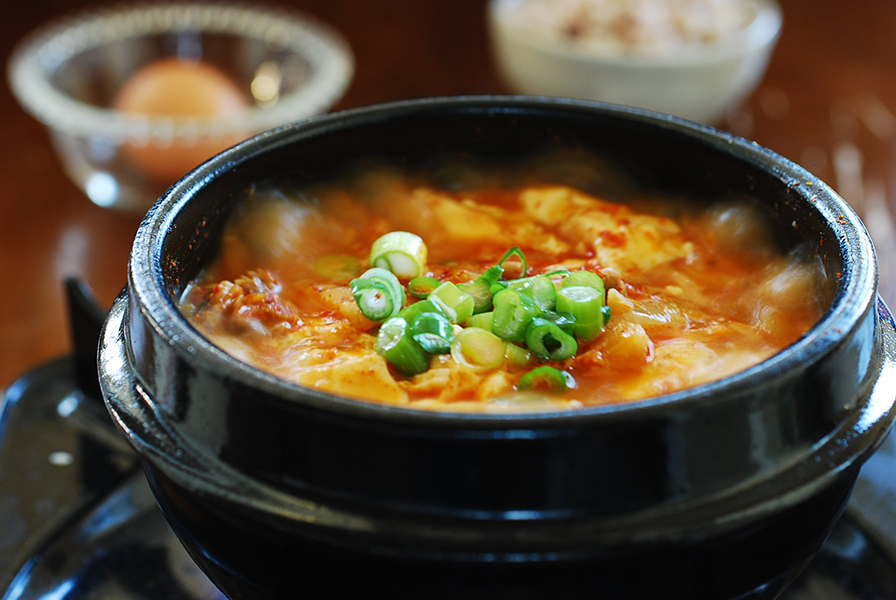 A Korean tofu stew, Soondubu Jjiage is a hearty winter dish. The dish contains fresh tofu, vegetables, and sometimes a meat or seafood. It's traditionally served in the vessel in which is was cooked, boiling hot and with a fried egg on top with white rice on the side. The origins of the dish are unknown as Korean cuisine is not well documents. However, records that dated back from the Joseon dynasty show some early form of Sundubu Jjigae being served. In the 1990's Korean immigrants in Los Angeles brought the dish to the United States.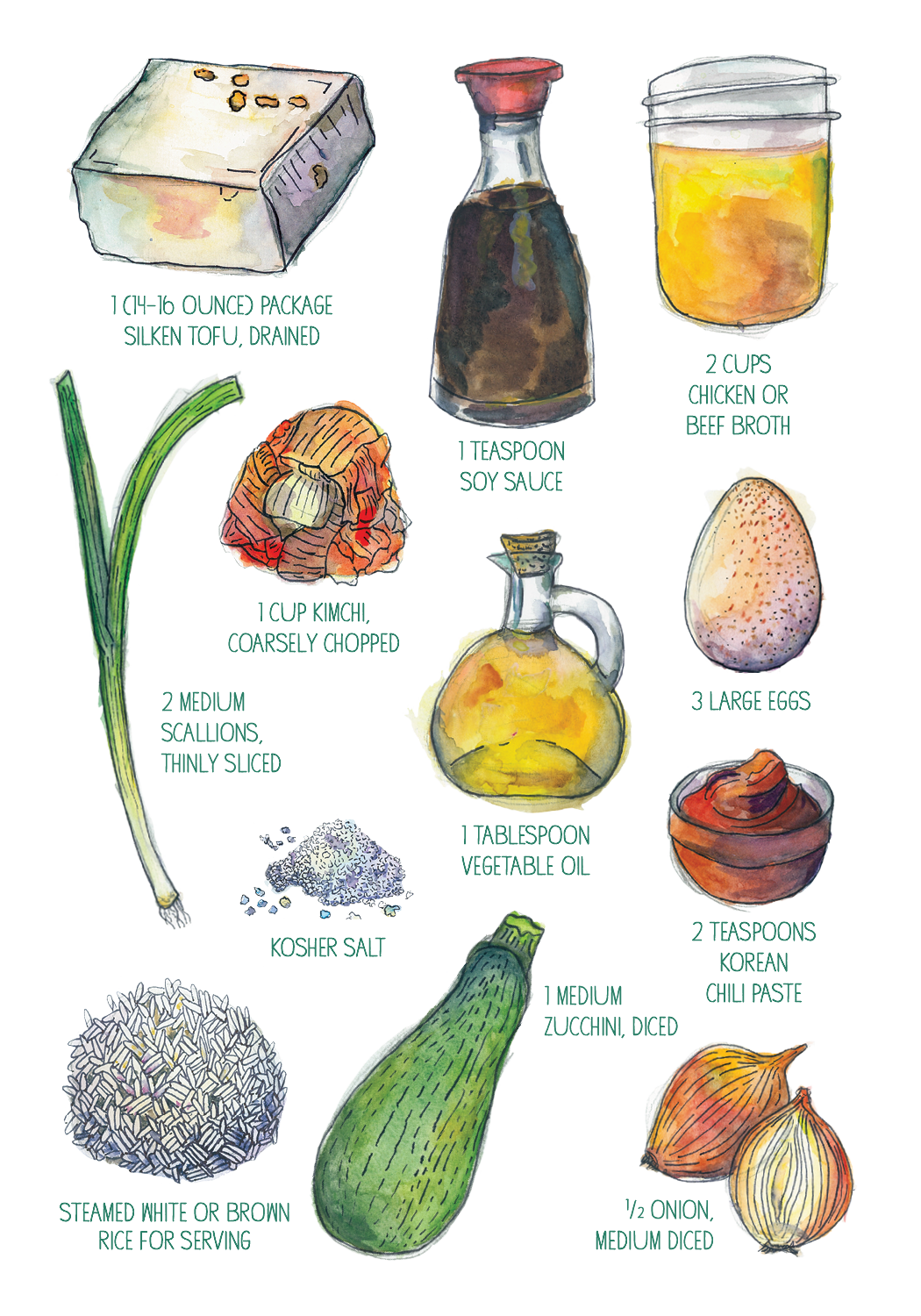 INGREDIENTS 
1 tablespoon vegetable oil
1/2 medium yellow onion, medium dice
Kosher salt
2 teaspoons Korean chile paste
1 medium zucchini, medium dice
1 cup kimchi, coarsely chopped
2 cups low-sodium beef or chicken broth
1 teaspoon soy sauce
1 (14- to 16-ounce) package silken or soft tofu, drained
3 large eggs (optional)
2 medium scallions, thinly sliced (white and light green parts only)
Steamed white or brown rice, for serving
DIRECTIONS
Heat the oil in a large saucepan with a tight-fitting lid over medium heat until simmering. Add the onion, season with salt, and cook, stirring occasionally, until softened, about 5 minutes.
Add the chile paste, stir to combine, and cook until fragrant, about 1 minute. Add the zucchini, season with salt, and stir to combine. Add the kimchi and cook, stirring occasionally, until simmering, about 2 minutes. Add the broth and soy sauce and bring to a boil. Taste and season with salt as needed.
Using a large serving spoon, add the tofu by very large spoonfuls, taking care not to break up the tofu into little bits.  Gently press down on the tofu with the back of the spoon so that the broth is mostly covering it. Simmer until the tofu is heated through and the flavors have melded, about 3 minutes.
Crack the eggs, if using, into the simmering mixture.  Cover and simmer until the whites are set, about 2 minutes. Divide the stew and eggs among 3 bowls, being careful not to break up the tofu or the egg yolks. Garnish with the scallions and serve immediately with rice on the side.